Chapter 3 Part 4 | Contents | Chapter 3 Part 6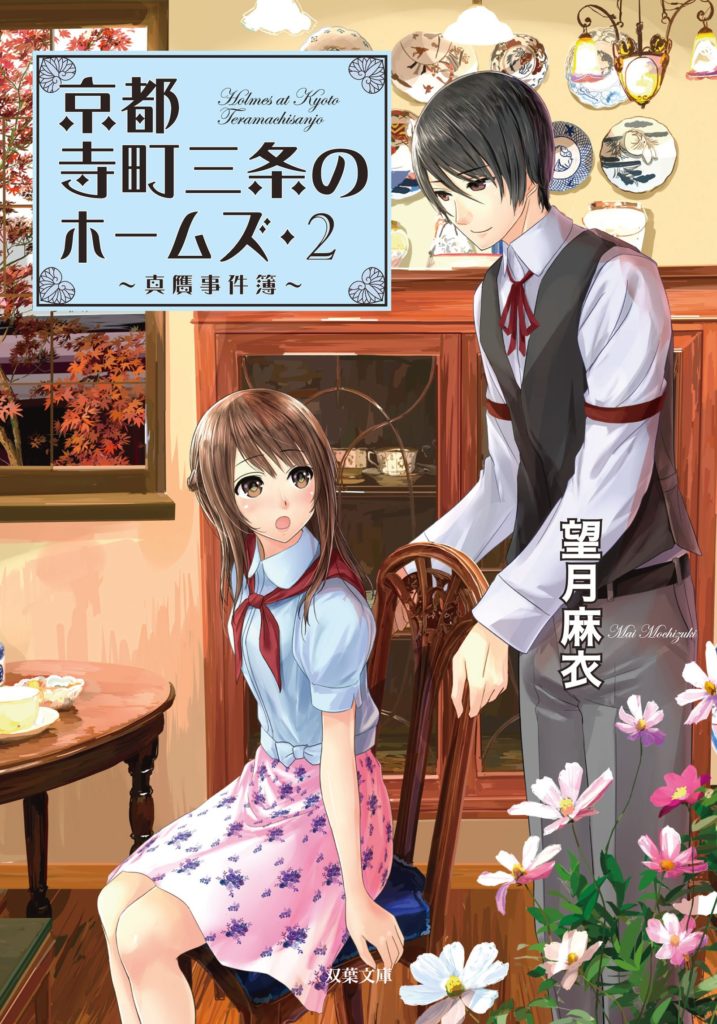 Once again, we went back to the hōjō and were shown into the "Waterfall Room".
As the name suggested, it was a wide, beautiful Japanese-style room from which you could see a waterfall. Three men were waiting for us there.
"Nice to meet you. I am the deputy abbot of Nanzen-ji, and my name is Unshou."
The deputy abbot, an elderly monk, lowered his head.
After that, a monk who looked to be in his thirties also bowed.
"My name is Shouan."
Finally, a middle-aged man in a samue3 that appeared here in the past. I also hear that the yokai disappeared when Mukan Fumon, who was at the time a Zen priest at Tōfuku-ji, came here to exorcize them.4
"It has been about 700 years since that moment. I'm sorry to tell you that another evil spirit has snuck into Nanzen-ji."
Holmes clearly announced, causing the deputy abbot to narrow his eyes.
"Evil spirit?"
"Yes, right here!"
As he spoke, Holmes grabbed something like a dagger from his pocket and forcefully brought it down on Enshou's head.
A cracking sound echoed throughout the room.
"Wha—!!"
While everyone else was taken aback, I caught sight of Enshou catching that small weapon. It was exactly the style of "catching a sword between one's bare hands".
And then I noticed. What Holmes swung was not a dagger, but a fan.
"—My, my. Ya sure did something terrifying with that innocent face. Were ya tryin' to split my head open."
A twisted smile appeared on Enshou's face as he held onto the fan.
"I thought I would stop the fan right before the top of your head and watch as your legs give way in fright, but I never expected you to catch it like this. You're quite impressive."
"No kiddin'. Ya used lots of force while swingin' this at my head. Anyway, I thought ya were a respectable person, but yer actually quite a violent kid. I never thought ya'd suddenly come for my head."
"Well, this is just a fan, after all," Holmes replied with a chuckle.
"With such a terrifyin' intent to kill, too."
Enshou quivered a little while still holding the fan, then asked a question.
"By the way, when did ya notice?"
This was quite the strange sight.
Holmes swinging down the fan, and Enshou holding it up.
They were glaring at each other, but their mouths were maintaining their thin smiles.
With that intense atmosphere, the rest of us couldn't bring ourselves to move or talk.
"I felt that something was off when we first met."
"Did I make a blunder?"
"For starters, you recognized me at the very beginning. You noticed me out of so many tourists and immediately approached to welcome me. I originally said that I would be coming here alone, but you weren't fazed by the appearance of an unexpected guest. From that I could tell that you were the one to suggest calling me over to this temple.
"Furthermore, you were a little nervous in front of the Zuiryuu scroll, right? No, thinking about it now, you were probably excited. You suddenly became talkative, and your breathing was out of place during your explanation.
"At that time, I thought that that temple had put out a forgery on display for their own reasons, and you were afraid that it would be exposed.
"The next point would be your tendency to imitate. You are, at your very root, a copyist. You tend to copy the expressions and mannerisms of people around you. At first, Akihito-san mentioned that you and I were very similar. In the next moment, you started giving off the same air as the deputy abbot, and your writing was almost identical to Shouan's. You intentionally wrote that letter in the abbot's handwriting, correct? Someone like you can get anything they want without difficulty, so why are you going out of your way to do this?"
Holmes asked, and Enshou's expression loosened.
"…Because I reached the peak of forgery, such that no one could notice my fakes. At first, I was ecstatic, but then it started becomin' real borin'. So, I decided to atone for my sins and enter the Buddhist priesthood, although I had to pull some strings to achieve that.
"But then a few days ago, ya exposed a forgery of mine that had gone unnoticed for years. And something that I've forgotten for a long time suddenly began to stir."
"It wasn't just me who exposed you, but my grandfather as well."
Upon hearing those words, Enshou snorted.
"Sure, if an old man who has accumulated much experience and has honed his craft for years exposed me, I would've just thought, 'That's only to be expected,' and given up. But ya managed to see through my forgeries even though yer younger than me, and when I found out that yer a talented person with the nickname of 'Holmes', I just felt like challenging ya.
"And that piece of calligraphy was one of my masterpieces to challenge ya. Although ya quickly revealed it for what it is, it's quite a work of art, ain't it?"
"—That ain't art at all! That's like sayin' an artificial flower with only the same shape as the original and none of the smell is a flower. Artificial flowers are artificial flowers, and completely different from normal flowers. There might be lots of differing opinions, but I ain't recognizin' forgeries meant to deceive people as art. That's just shameless!"
As a surprisingly cold smile appeared on Holmes' face, Enshou narrowed his eyes in enjoyment.
"Wow, ya sure can talk. But I suppose that's yer true nature. With such a frightenin' aura, yer like an entirely different person. Still, it's way better than that respectable façade ya put on. Yer pretty good at acting yerself."
"Thanks… but where's the real scroll?"
"In the temple storehouse. Ya will find it instantly there. Havin' someone like ya around makes me think that I still have attachments to this mortal world. I'll accept this as my loss and retreat for now. See ya!"
With a grin on his face, Enshou thrust a hand at Holmes to send him flying, then jumped out of the room, still holding onto the fan.
"Trying to escape?"
Holmes tried to leave the room to chase him down, but the deputy abbot called out.
"Kiyotaka-kun, please wait!"
Upon hearing those words, Holmes immediately stopped moving.
But in the next moment, Enshou was gone.
"—Tsk!"
Holmes bit his lip, clenched his fists, and clicked his tongue in frustration.
I was honestly shocked by that display. It was exactly like Enshou said. I never expected him to have such ferocious fighting spirit behind that mask of refinement.
While I was still trying to wrap my head around the recent developments, I felt a small degree of admiration.
"Kiyotaka-san, that's the skills of a shinobi. A sheltered boy like you ain't catchin' him. It'll just be a waste of yer time and effort."
The deputy abbot said quietly, but Holmes frowned.
"I beg your pardon, but I'm not a sheltered boy."
He replied as he turned around. While there was a smile on his face, it was apparent that he was unwilling to accept the deputy abbot's words.
"I understand that yer not an average person. But ya just don't match up to Enshou in terms of physical ability."
"…Deputy abbot, you don't seem very surprised, so did you already notice it?"
"I didn't know that the Zuiryuu scroll got swapped, but I knew that Enshou ain't an ordinary person, and I could feel that he had some past that he couldn't reveal publicly. However, since he'd already decided to enter the priesthood, it is our duty to accept those feelings of determination. I don't know what Enshou went through in his past, but he'd forgotten about the mortal realm, repenting for his sins, reciting Buddhist prayers, and was about to become a real monk. But due to yer existence, he began to feel that he still had attachments. Being exposed by the veteran Seiji-san might have be painful for him, but he would have capitulated. Being exposed by someone like ya must have hurt his pride.
"At the same time, Enshou was probably happy that ya managed to see through his forgery. Having lived as a 'shadow' for a long time, he wanted to be recognized as an individual. At that point, he probably felt that he had finally met his destined rival, and thus became unable to live a quiet life. How ironic it is…"
The deputy abbot's words trailed off as he stared into the distance.
"Should we report this to the police?"
"I don't think he was lying when he said that the Zuiryuu scroll is in the storeroom. In the end, nothing was stolen, and even if we tell this to the police, I don't think they can do anything against that shinobi anyway."
"So what do you plan to do? Just let him go away scot-free?"
Holmes asked irritably, but the deputy abbot put on a calm smile.
"Yer here, aren't ya?"
"Huh??"
"We'll count on ya to deal with Enshou, Holmes-han of Teramachi Sanjou."
Holmes' eyes widened upon hearing those words.
"In the end, we were unable to fill the gaps in Enshou's heart, and we feel regretful for that. But perhaps that couldn't be helped. Since ya managed to completely expose and knock down his forgeries, ya might figure out something in the future.
"And maybe ya will find that this encounter was fated to become a lesson to ya."
The deputy abbot placed a reassuring hand on Holmes' shoulder.
We were overwhelmed by his smile which seemed to see through and accept everything.
"…I see why you're the deputy abbot of Nanzen-ji."
Holmes' shoulders drooped in concession.
"But of course, I'll expose every single one of his forgeries. I'll make him think that making forgeries in itself is useless!" Holmes announced as he looked firmly ahead.
---
This post is made possible by our amazing patrons!
Captains (Tier 3) : SuperKatsu
Editors (Tier 2) : Joshua Fisher, Yazmin Arostegui, Bennet Kilian, Steven Baltakatei Sandoval, Slush56, Alicia Kernen, Ashley Soffietti
Assistants (Tier 1) : Jaime Cuellar, Karen Kronenberg, redlegsfan21, Anna, Definitelynotme, Rolando Sanchez, Kevin Kohn
Thank you very much for all your support!