Chapter 2 Part 3 | Contents | Chapter 3 Part 2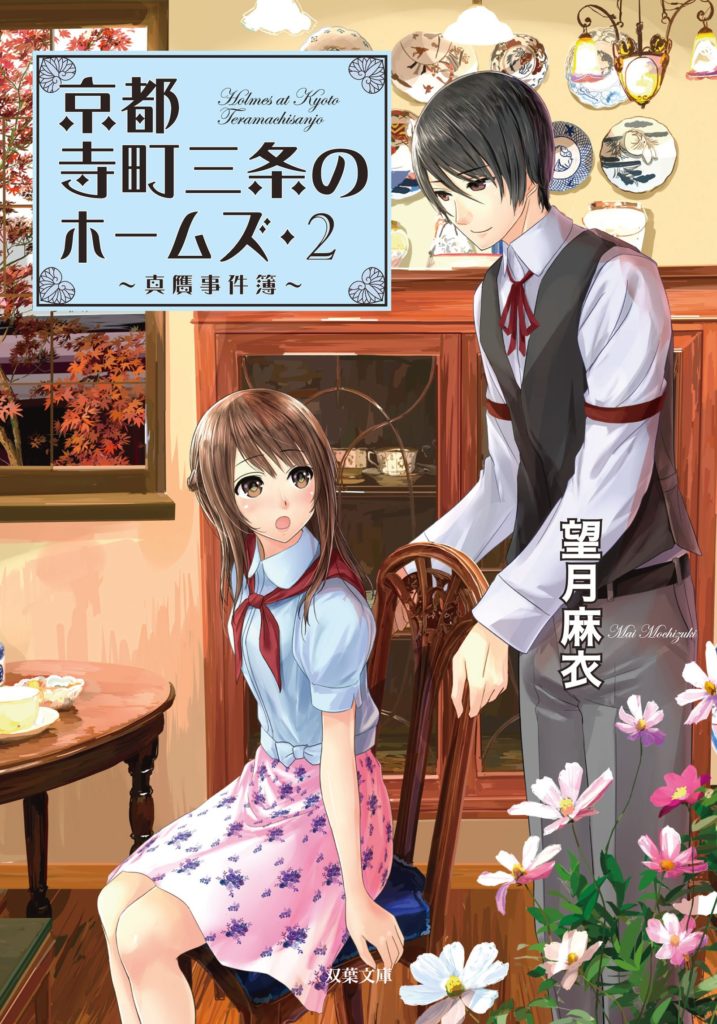 "—Yes, yes, please. Thank you so much!"
I'm Kajiwara Akihito, 25 years old. My occupation? Being an actor.
I excitedly hung up from the phone call with my manager.
That phone call was regarding a new gig.
"Since your family lives in Kyoto, this job should fit you perfectly, Akihito-san."
It's a travel program, and is like the Kyoto version of "See the World by Train"1, I think?
They might be short episodes, but they'll display the beauty of Kyoto.
Finally, a favorable wind is blowing!
I've always only been on minor parts too…
"—Can't believe such a great deal came in!"
No matter what you say, it's a job with a leading role on national television.
After taking a large breath, I plunked myself onto the sofa.
In front of me was a hanging scroll.
It was a painting of Mt. Fuji by Hokusai. The scroll my father had left me were burnt up in that spot of trouble we had in our family a while ago, so I found another one like it and bought it.
Come to think of it, its name is…
"Hmm, what's it called again?"
I opened the memo app on my smartphone and checked the name. The Dragon of Smoke Escaping from Mount Fuji. Oh yeah, so that's what it's called. I nodded.
At the same time, I was reminded of the words from that guy with the nickname "Holmes", Yagashira Kiyotaka.
"—Akihito-san's 'The Dragon of Smoke Flying Over Mt. Fuji' was drawn three months before Hokusai's death. He lived until he was about 90, and in his final moments, he said, 'If only Heaven will give me just another five more years, then I could become a real painter.'2
"Even up till his death, he wanted to keep drawing and lamented his inability to reach the top. Thus, he can be said to be a true artist.
"I believe that Kajiwara-sensei was trying to tell you, "If you truly love the path of an artist, you should strive to instill yourself with that attitude. Don't be half-assed. Become a star, just as how the dragon rises to the heavens from Mt. Fuji, the top of Japan.'
"He was cheering you on, even though he couldn't bring himself to say all that—"
Thinking about my father's feelings that Holmes had conveyed to me, a burning sensation crept into the corners of my eyes.
"……"
Come to think of it, the good roles started coming in after hearing Holmes explain my father's dying message, strangely enough.
(I managed to snag the role of Lysander in Midsummer Night's Dream right after that, too.)
Now it's time for my main job. If I can get noticed here, it'll probably lead to even bigger jobs in the future.
And I'll actually be the one to introduce the city of Kyoto to the whole country! While my parents didn't originate from Kyoto and I don't even use the Kansai dialect, that doesn't change the fact that I was raised in Kyoto.
So I'm a Kyoto guy too (in a sense).
Since we are now deep in the middle of autumn, there should be plenty of great sights to see in Kyoto.
Then again, I've just returned to my Tokyo home, but now I'll have to get back to Kyoto. Those Tokyo girls will say, "You're leaving me to go to Kansai?"
My cheeks relaxed as I had those joyful thoughts.
Since they were planning to start by introducing Nanzen-ji, so perhaps it might be a good idea to go for a preliminary viewing before the recording.
And before that, I can show up at Kura and say hi to that guy…
I could have him tell me all about Nanzen-ji.
Since it's him, he'd look annoyed, but still kindly teach me all that he knows.
With my smartphone in hand, I looked at the picture of Holmes I took at the party the other day, and grinned.

---
This post is made possible by our amazing patrons!
Editors (Tier 2) : SuperKatsu, Joshua Fisher, Yazmin Arostegui, Bennet Kilian, Steven Baltakatei Sandoval, Slush56, Alicia Kernen, Ashley Soffietti
Assistants (Tier 1) : Jaime Cuellar, Karen Kronenberg, redlegsfan21, Anna, Definitelynotme, Rolando Sanchez, Kevin Kohn
Thank you very much for all your support!
A Japanese short factual television program broadcast daily by TV Asahi since June 1987. It follows railway journeys in various countries around the world, featuring people on board the trains and sights along the way.