Chapter 5 Part 4 | Contents | Afterword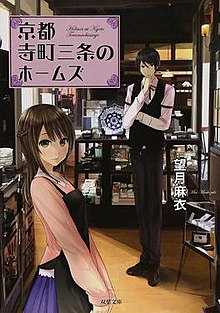 Thus we went around looking at the yamaboko, then returned to Kura on Teramachi Sanjou.
Come to think of it, I'd left my uniform and bag at the shop.
The shopping street was quiet, and only Kura was lit up by the faint light of the lamps.
"—Here you go."
As usual, Holmes-san had prepared some café au lait.
"Thank you."
I held the cup in my hands, brought it to my lips and felt the deliciousness spread in my mouth.
I turned to look at the top of the counter. Izumi-san's tea bowl was no longer there.
"…Holmes-san, did you notice the message in Izumi-san's tea bowl?"
I asked, causing Holmes-san to open his eyes wide in surprise.
"Yes. I'm surprised that you noticed, Aoi-san."
"No, that's, I mean, well."
It was difficult to say that I secretly looked it up because I was curious.
"So, um, how did you answer?"
As I changed the subject, Holmes-san quietly put down the cup he was holding.
"After receiving her teabowl, I thought that she would want a henka1, so I gave her one as a proper reply."
A henka is a waka written in reply, right? As expected of Holmes-san!
"W-What was your reply?"
"'With your caprice no more than a brief spring night's dream, how I would regret my name coming, pointlessly, to 'arm!' I returned her the tea bowl with a twist on a poem by Suō no Naishi2."
"…What does it mean?"
"The original poem is 'With your arm as my pillow for no more than a brief spring night's dream, how I would regret my name coming, pointlessly, to 'arm!' meaning 'Because you let me use your arm as a pillow for a short moment as fleeting as a spring night's dream, uninteresting rumors about us have surfaced, and that is quite a burden.'"
"…I-I see."
In other words, his poem means… "Because of your whims which lasted for a short moment as fleeting as a spring night's dream, uninteresting rumors about us have surfaced, and that is quite a burden." With that poem, he lightly rejected her.
As usual, he was elegant, but with a sharp edge.
(As expected of a Kyoto guy.)
"B-But weren't you swayed by that? You used to love her a great deal in the past, and she just confessed to you with all her feelings, right?"
"Not at all. My love for her was certainly unrequited in the past, but it has already ended. Furthermore, I could see quite a lot of calculation and confusion in the lines of her tea bowl, which was made to look like it contained her deepest feelings. It told me that the rekindling of her love towards me was just a means of escape for her."
"The lines…" I gulped.
"Yes. Just like for my father's novels, the creator's true nature cannot be hidden, and will always be revealed in their creations. I told her all of that, and also advised her to have a proper talk with her boyfriend and her parents if she was still hesitant about marriage, or she would regret it forever. After that, she pouted and left."
"Oh… so that's how it went."
Naturally, Holmes-san was really calm.
Without being taken in by her fickle confession, he saw through it to read her true nature…
Well, to Holmes-san, his love for Izumi-san must have already ended.
That was what I thought, as a wave of relief washed all over me, making me a little bewildered.
Why do I feel relieved?
At that moment, the realization that I was crying my heart out into Holmes-san's chest suddenly crossed my mind, causing my cheeks to instantly heat up.
"Aoi-san, is anything the matter?"
Holmes-san suddenly peeked at my face, causing me to instinctively turn back.
"N-No, it's nothing, really."
My heart was palpitating wildly.
What am I so nervous about?
At that instance, the door opened wide with a ring.
"Oh, it's open! I suppose I did see a small light in the shop."
"That must be Kiyotaka."
Owner and Manager entered.
The two of them seem to have returned from the Gion Festival, and they were both holding paper fans.
Upon seeing us, Owner's eyes widened.
"Ohh? What's this? A young boy and girl doing something indecent in the dark?"
"Your mind's indecent for thinking like that. That's being rude to Aoi-san, isn't it? I'll go get some coffee."
Unfazed, Holmes-san stood up and left the room.
On the other hand, my heart was about to explode, although I didn't quite understand why.
Why exactly am I so nervous?
"Aoi-san, how was Yoi-yoi-yama?"
Manager asked kindly, causing me to come to my senses. I turned to look at him.
"Ah, yes. It was so dream-like and lovely."
"This year's festival was more extravagant than last year's, after all."
Holmes-san came out of the pantry holding a tray.
After he arranged the cups of coffee on the table, the door opened with a ring yet again to reveal Mieko-san's energetic figure.
"Oh, everyone's gathered here, huh. I managed to grab Ueda-san and Akihito-san at the festival."
"Wow, the coffee smells great!"
"As promised, we came to see the Gion Festival."
Ueda-san and Akihito-san clamorously stepped into the shop.
I somehow felt relieved upon seeing the usual faces.
"Holmes, make some coffee for us too!"
"Wine would be great as well."
Holmes-san nodded and replied, "Fine, fine."
"Aoi-san, would you like more café au lait?" He asked while looking at my face.
"Ah, yes please," I replied, and my heart beat strongly yet again.
Really, why am I feeling so nervous?
It's probably because I'd cried in his chest earlier.
Because Holmes-san's wide chest, sweet scent and large hands were so gentle and warm.
Thinking back about it made my heart pound again.
Even so, I never thought I have such a refreshing feeling.
I've finally managed to settle the past, after all.
With the Gion Festival as a turning point, I've managed to bid farewell to the me who always only looked backward.
From today onwards, I'll face forward and walk on.
Yes, that's what I'll do. I nodded, brought the café au lait to my lips and smiled.
Even as the night drew on, noise and laughter continued in Teramachi Sanjou.
—That was certainly an enjoyable, joyous moment after the festival.

---
This post is made possible by our amazing patrons!
Editors (Tier 2) : Joshua Fisher, Yazmin Arostegui, Steven Baltakatei Sandoval
Assistants (Tier 1) : Bennet Kilian, Jaime Cuellar, Karen Kronenberg, redlegsfan21, Anna, Definitelynotme, War Dub
Thank you very much for all your support!